CARRICK MEDICAL CENTRE NEWS SEPTEMBER 2021


FLU CLINICS 2021

Our new FLU VACCINE CLINICS are divided up by age.
Initially we will be booking in patients in 2 age groups, aged 18-64, and aged 65-79. These clinics will run on Friday 8/10/2021.

It is VERY IMPORTANT to choose the correct age group. Please choose the correct clinic for your age group:

I am aged 18-64 years old (click here)

I am aged 65-79 years old (click here)

We will also be running a combined Flu Vaccine and Covid Booster clinic for patients aged 80 and over, and a link for booking will appear here shortly.

NEW PREMISES NOW OPEN
Carrick Medical Centre is now located at the New Primary Care Centre, Townparks, Carrick on Shannon, Co Leitrim.

COVID CERTIFICATES
We do not have any role to play in issuing covid certificates, please contact the HSE in regard to your vaccination certificate.
COVID-19 TEST REFERRALS
To be assessed for Covid-19 testing, please follow this link COVID-19 FORM. Please ring reception and inform us, when you have completed the online form. One of the GPs at Carrick Medical Centre will review your questionnaire and make contact with you before the end of the next working day. This review service is not available out of hours.

Make an appointment for our Blood Clinic. Cholersterol, thyroid, liver and kidney function, full blood count, iron levels, prostate cancer, vitamin B, calcium and vitamin D levels. Results are available within one week.
Allergy screening blood tests also available, please discuss with your Doctor.

Skin Biopsy, Minor Surgery and Joint Injections
We can biopsy most suspicious skin lesions, and joints like shoulders, wrists and knees can be injected for relief from pain and stiffness.


Travel Vaccine Clinic
All Travel Vaccinations are available on site in Carrick Medical Centre, including yellow fever documentation.
Click here for more information about the Cervical Cancer Vaccine, Influenza Vaccine, and the new Childhood Vaccination Schedule.


VENESECTION
We now perform Venesection (Taking units of blood) for patients with the iron overload condition of Haemochromatosis. There is no fee for DVC or GMS card holders. Please ask at reception.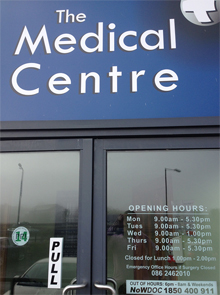 DR TRISH NOONAN; DR JONATHAN EGAN; DR DAVID GREENE; DR ORLA FITZPATRICK;
Carrick Medical Centre is an affiliated GP training practice with the Sligo GP Training Scheme.

Carrick Medical Centre is located iat the new Primary Care Centre, Townparks, Carrick on Shannon.

We see both private and GMS (medical card and doctor visit card) patients. Our patient list is CURRENTLY CLOSED TO NEW PATIENTS.
Appointments are available from 9.30am to 5pm Monday, Tuesday, Thursday and Friday, and on Wednesday from 9.30am to 1230pm.