CARRICK MEDICAL CENTRE PATIENT NEWS



Meningitis B Vaccine: The Meningitis B vaccine is part of the current childhood vaccination schedule, but if your child was born before the 1st October 2016, he/she will not have been vaccinated as part of their childhood vaccinations. This vaccine now available through Carrick Medical Centre for older children and children born before the 1st Oct 2016, please speak with our nurse for more information

Influenza Vaccine: Now available to all patients, free to those who hold a Medical Card or Doctor Visit card, €20 for private patients

Travel Vaccines: Please make sure you book your travel vaccines up to 3 months in advance of your planned trip

24 hour BP monitor : 24 Hour Blood Pressure Monitoring available via the GMS to all Doctor Visit and Medical Card patients, €65 for private patients

Childhood Vaccinations : New Childhood Vaccination Schedule up and running, see below for further information

Make an appointment for our Blood Clinic. Cholersterol, thyroid, liver and kidney function, full blood count, iron levels, prostate cancer, vitamin B, calcium and vitamin D levels. Results are available within one week.
Allergy screening blood tests also available, please discuss with your Doctor.

Skin Biopsy, Minor Surgery and Joint Injections
We can biopsy most suspicious skin lesions, and joints like shoulders, wrists and knees can be injected for relief from pain and stiffness.


Travel Vaccine Clinic
All Travel Vaccinations are available on site in Carrick Medical Centre, including yellow fever documentation.
Click here for more information about the Cervical Cancer Vaccine, Influenza Vaccine, and the new Childhood Vaccination Schedule.


Cryotherapy
We use the Cryopro Device to
eusure excellent results. Click here
to learn more.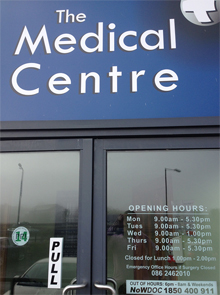 DR K GREENE; DR J CEANNT; DR T NOONAN; DR J EGAN; DR D GREENE;

The Medical Centre is located in Hartley Business Park in Carrick on Shannon.
From Carrick on Shannon, drive towards Leitrim Village / Drumshanbo, and we are located 0.5KM from Carrick town on the left hand side of the road, at the Hartley Junction.

We see both private and GMS (medical card and doctor visit card) patients. We welcome new patients, and GMS Card application forms are available at reception for those who wish to apply.
Appointments are available from 9.30am to 5.30pm Monday, Tuesday, Thursday and Friday, and on Wednesday from 9.30am to 1pm.